Case Study: Health Call

Reducing admissions and visits though standardised, digital patient transfers 
This project was inspired by the desire to reduce the number of hospital admissions and visits by our Vulnerable Adults Wrap Around Service (VAWAS) team for patients who had recently been transferred from one place of care to another.
One major problem we set out to solve was they there was no standard 'hand over' or transfer of information when a patient moved from, for example, a hospital to a care home.
Often there would be a conversation of phone call which would give the background, and mention any specific points the care home would need to know.
But this wouldn't always take place, and when it did, important information could be missed. This meant a lack of joined up care for the patient, and care homes having to deal with emergencies or other problems that could have been anticipated and prevented.
Our solution was to use a standard protocol for recording and transferring information as the patient moves. It prompted staff to complete a series of relevant background information, observations and actions that could easily be missed.
We introduced a system called MIST to Care Homes.
MIST is a military protocol for the transfer of injured service personnel, providing a standardised structure for accurately passing over vital information.
M – Mechanism of injury – Medical issue

I – Injuries sustained or Illness suspected

S – vital Signs at the scene and on transport

T – Time of onset – Treatment and response
We produced a template, introduced and trained it into care homes across Durham Dales, resulting in a significant reduction in visits and admissions.
The diversity of skills and experience within the DDHF team is a core strength, and the introduction of a military protocol into a health service setting is testament to that.
The next stage of the innovation was to use technology to make this process easier, more accurate and integrated.
We worked with the County Durham and Darlington NHS Foundation Trust (CDDFT) to pilot a system called Health Call – a trial electronic patient transfer system. 
The original aim was to use technology to record National Early Warning Scores – a standard system of observations used in the NHS. 
But it soon became apparent this wouldn't be appropriate as it didn't factor in age and long term conditions, and therefore using it for older, unwell patients would create false positives.
We suggested using MIST to record regular observations which would take into account what was the norm for that particular patient which would be much more relevant and informative for their future care. The results of the paper forms spoke for themselves.
The compromise was to use a nationally recognised system called SBAR, which contained many of the same elements as MIST:  
S – Situation, 

B – Background

A – Assessment 

R – Recommendation
When a patient was transferred from, for example, a hospital to a care home, the relevant observations and instructions would be recorded on an internet-connected tablet. This meant all information was instantly stored and shared across all parties dealing with their care.
The pilot took place at the Manor House Care Home in Barnard Castle a 70-bed care home, with the largest non-elective rate of admissions in Durham Dales. 
DDHF bought and prepared tablet devices to enable the pilot to start, as well as providing training to care home workers and non-clinical staff.
The pilot lead to a 40% reduction in admission – an unqualified success.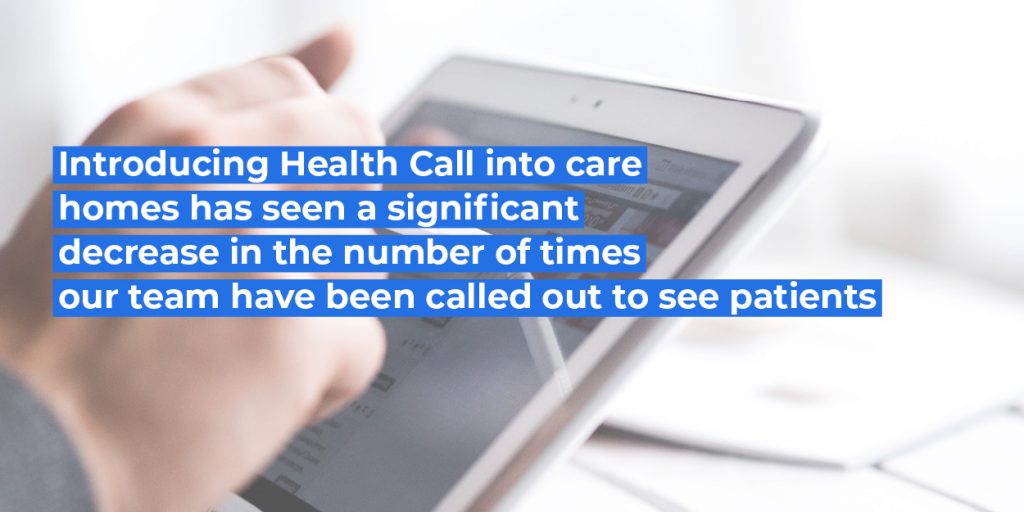 Staff at the Manor House were enthusiastic about the trial, and reported feeling empowered by being able to influence and improve the care patients received.
It was immediately clear that this system would be greatly beneficial in all care homes, but the system in its trial format was not adaptable to work across multiple sites.
We approached the system developers directly who worked with us to produce a bespoke software solution that effectively 'split' the system, adding an option button to select the relevant care home the patient was being transferred to.
In the following 6 months, with the system launched in a second care home, admission rates and the number of visits from our VAWAS team continued to fall.
The Manor House saw admissions drop by 44% compared to the previous year, and a 10% reduction in visits.
Beaconsfield Care Home, also in Barnard Castle, reported a staggering 76% reduction in admissions, with visits remaining at the same level.
We monitored the data of a third care home in Barnard Castle – King's Court – as a control. This baseline comparison would show the costs of not implementing Health Call. Across the same time period, King's Court saw an increase in VAWAS visits of 89%.
We are planning a full roll out of Health Call across all 22 care homes in Durham Dales, with a further two homes – Parklands and The Fields – having recently introduced the system.
Through working in collaboration with CDDFT, and being able to use our evidence-based to help shape a trial, we successfully brought together new technologies and our innovation to significantly increase outcomes for patients, care homes and the NHS.